During the summer, we work for you on Mondizen!
We know that you love local and gourmet food products, so we are just growing our regional products range. Contacting new producers, small producers without a website that you could never reach from abroad.
And we are going to bring them to you on Mondizen!
These products are not yet on our website, we are still working on this offer but we cannot resist sharing our first discoveries with you.
They will soon be available on Mondizen, so stay close!
Here is the first one, a truite terrine made in the Normandy region by a very small producer. Only local ingredients, traditional preparation and quality food. Nothing else for this unique French product you will be able to order : terrine de truite.
This terrine made of truite and mustard is a gourmet product made in France. On a slice of bread for an aperitif, so nice!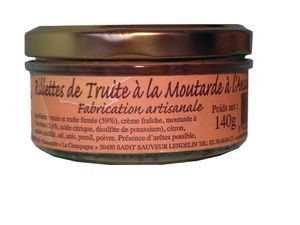 Mondizen is your French shop, buy any French product you like and get it delivered right to your door. International shipping of your favourite French products.