We wish you a wonderful weekend with Mondizen, and why not enjoy a new discovery of France and its charming villages?
This week, we will take you to the Alsace region, close to Germany in the North of France. Alsace is a beautiful and very traditional region. This region still has an authentic architecture you will find nowhere else. In Alsace, a lot of people still speak "alsacien", a mix between French and German (but don't worry, they also speak French!).
Alsace is a well-known region for its gastronomy and its wines. In Alsace, beautiful white wines are made like Gewurztraminer, Riesling, Cremant. Cremant is a bubbly wine, a kind of champagne and it is very nice. If you go there, do not forget to try a delicious Choucroute, a traditional dish with cabbage and meat and many other things.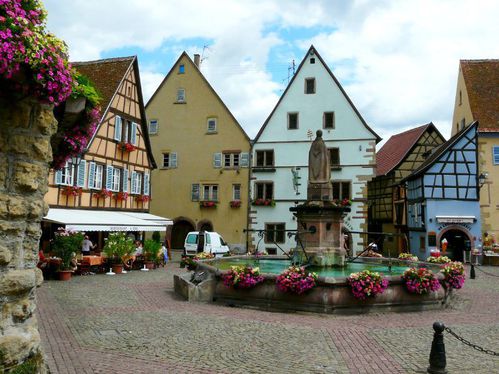 So if you want to enjoy a great time in this French region, stop in a "auberge" (a traditional French restaurant) or enjoy a wine-tasting in a cave. Alsace is just waiting for you!
And if you cannot make it now, you can go to Alsace in winter, they have wonderful markets, illuminations and decorations in December.
On this picture, you can see the "place centrale" of Eguisheim. This Alsacian village has been voted the "most beautiful village of France" in 2013! And I can tell you it is worth a look.
Have a great weekend and see you soon on Mondizen, your French shop!