Candy lovers from around the globe,when you think about "Haribo", a storm of beautiful memories comes to mind whether you're adult or a child. That's why in Mondizen food products, you'll find what makes you happy with Haribo sweets.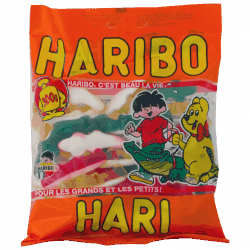 The wonderful Tagada strawberry and the famous Hari croco await you in the "snack" section of the Mondizen catalog.
Practical and easy to keep with their packets of 120g packaging style, you will fall for these tender sweets & delight in the famous strawberry scent of Tagada.
For children's birthday parties or just as snacks, you will find Haribo products in Mondizen.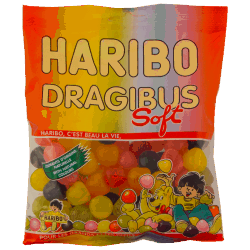 It's raining Haribo on Mondizen. Dragibus, Rotella liquorice, marshmallows, Zan, Roosty, new blend of Polka or more of Tagada with Tagada pink & marshmallows with pink Tagada taste…