As you know, Mondizen is your online French store.
On Mondizen, you can find all the French products you love, food, cosmetics products and many other things like gourmet food, regional products.
We love French food, and we enjoy sharing some of our recipes with you.
This week, we will share our recipe of "delicatesses", a wonderful treat, so easy to make...
How will you resist?
You won't!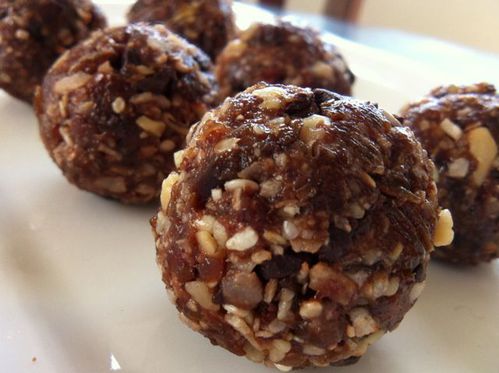 These wonderful chocolate and dried-fruit balls are relaly easy to make, all you need is 3 minutes and a blender. Even no pan !
They are perfect with a tea or a coffee. A real treat, but a healthy one !
Ingrédients
40 g dark chocolate
20 g sultanas
20 g dattes
20 g sesame
20 g sunflower seads
10 g ground coconut
Preparation
Put all the ingredients in your blender. Blend for 1mn.
Take a teaspoon of this preparation and roll it like a truffle. Go on through all your mixture.
Refrigerate for about 20mn.
You do not need to melt anything or to add any liquid to these delicatesses. The mixture will stick well when you roll them, just with the chocolate and dry fruit. Nothing else is needed...
Bon appetit !
This wonderful recipe can be made with almonds, honey, coffee, alcohol, linen seads, walnuts, hazelnuts, milk chocolate and many other things.
Just let your imagination go wild !
Enjoy these delicatesse and see you soon with another recipe from Mondizen, your online French shop !