Creme caramel is a classic French dessert. It is easy to make but so nice ! Smooth and creamy, you must try it !
Ingredients
Custard :
5 whole eggs
120g sugar
650ml milk
100 ml cream
Caramel :
100g sucre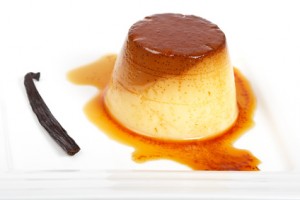 Preparation
- Pre-heat the oven to 180°C.
- Pour the milk and cream in a pot, add the vanilla bean cut in its length. Heat gently.
- Meanwhile, make the caramel by placing sugar in a small saucepan over a low heat. Cook until the sugar dissolves and the caramel gets a deep golden color.
- Pour this caramel in an avenproof dish. Set aside.
- In a large bowl, whisk the eggs and sugar. Add the warm milk mixture while gently stirring.
- Strain the mixture into a pouring jug to remove the vanilla pod.
- Pour mixture in the ovenproof dish.
- Put this dish into a bigger dish an pour boiling water up to half side of the creme caramel dish.
- Bake for 40 minutes.
- Remove from oven and set aside to cool. Refrigerate for 2 hours at least.
- Then, run a flat-bladed knife aroung the inside edge of the dish and carefully turn the creme caramel onto a serving plate.
Bon appétit !
If you want to enjoy a creme caramel but don't want to cook it, you can find a creme caramel premix on Mondizen !
Mondizen delivers your French products all around the world.