Cattier laboratories have developed a range of "Nature & Cosmetics" products manufactured in France.
For gentle body care, skin & nature protection, Cattier hygiene and cosmetic products are bio guaranteed by the Cosmebio Charter. This manufacturer's range products are made of 100% natural ingredients, in accordance with ecological criteria, and guaranteed paraben and phenoxyethanol free. These products are available at Mondizen and can be delivered to you anywhere abroad.
Cattier laboratories has developed a special line of care and toiletry products for babies. The gentle soap-free cleansing gel for hair and body is especially designed for baby hair and smooth baby skin. The face and body moisturizer with almond and orange blossom from Cattier is perfectly suited to an older baby's skin.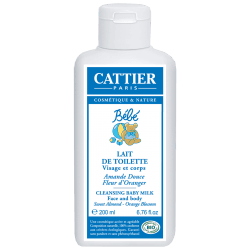 You can also use the special baby cleansing lotion for face and body that removes impurities while nourishing and smoothing the baby's skin. For diaper changing, Cattier laboratories manufactured the Liniment lotion that gently cleans baby's bottom, smoothes irritation and prevents redness.