Agreat soup which can be savoured chilled in the summer and hot in the winter. It's a subtle original mixture of flavours which gives a delicious result!
Ingredients for 8 small glasses or 2 soup dishes
Mondizen ingredients:
1 pinch of Cayenne chilli pepper powder
10 cl- ½ cup crème fraîche/double cream
Ingredients from your kitchen:
1 avocado
Juice of half a lemon
Salt and pepper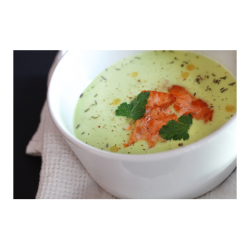 Preparation
Make the chicken stock by heating up the water and crumbling the stock cube. Add the stock cube to the hot water. Stir until the latter dissolves.
Bring to boiling point. Stir to check for lumps. Leave to cool.
During that time, take the skin off the avocado, cut it into cubes. Pour over the lemon juice and mix to avoid the flesh going black.
Blend the avocado with the crème fraîche. Add the stock and blend again to obtain a smooth liquid.
Add seasoning to taste and a pinch of Cayenne chilli pepper powder.
Blend again.
Pour the velouté into the recipients and serve.
Chill the soup for 1 to 2 hours in the fridge if you want to eat it cold.