As I said in my last article, French food is also a simple food, easy to prepare, but very tasty! And we love food on Mondizen, this is why we offer our clients the possibility to get the French products they love, delivered right ot their door!
Today, I want to share with you the recipe of the quiche lorraine.
A quiche lorraine is a great dish. Easy to make, kids love it. It's perfect as an entree with a green salad or for an aperitif, ideal for a BBQ.
You can have it cold or warm.
I give you the basic recipe, but then you can add whatever you want, tuna instead of bacon, add tomatoes, more pepper, more cheese, blue cheese why not. There is no limit!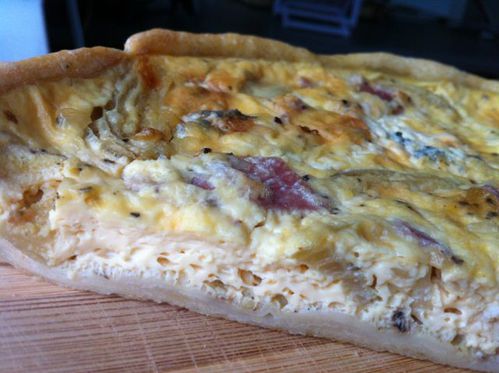 Quiche keeps for a few days. But remember, as it is made with a shortcrust pastry, it is much better to reheat it in a traditional oven instead of a microwave.
You can use a pre-made shortcrust pastry, but it is better with a home-made one. If you want to make your own pastry, just follow the link below!
6-8 servings
Ingredients
30 cl (1/2 pint) double cream or creme fraiche
3 rashers bacon chopped
1 onion chopped
120 g (1 cup) grated tasty cheese
Pepper & salt
Preparation
Preheat the oven 180°C and follow the instructions for the shortcrust pastry.
For this recipe, you will bake the pastry itself for 20 mn, then you will bake it again with its topping.
While the shortcrust pastry is baking, prepare the topping. In a frying pan, gently grill the bacon. As the bacon contains fat, you do not need to add any oil or butter. After a few minutes, add the chopped onion. Cook until the onion is clear. Leave to cool.
In a bowl, mix the eggs, creme, salt and pepper. Do not add to much salt as the bacon is already salty.
When the shortcrust pastry is cooked, pour the bacon and onion mixture and cover with the cream and eggs. Add the grated cheese on top.
Bake for 25 mn.
Leave it to cool for a few minutes.
It's time to enjoy your quiche, so Bon Appetit !
See you soon for another piece of France, maybe a recipe, maybe the discovery of a beautiful village... we will see!