What kind of meat for a bbq in France ?
7 Juillet 2008
If you are invited to a BBQ, people might tell you they will make "des grillades".
"Grillades" is what we make for a bbq. We cook a special kind of sausages : merguez and godivots.
Merguez might be spicy (the red ones) :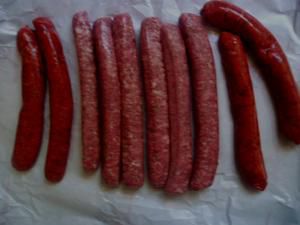 We can also cook some pork meat and "brochettes" (small pieces of meat, poivron and oignon on a wooden stick)
.
Where can I find them ?
In a supermarket, "rayon boucherie" or "rayon libre service" already packaged.
But you can also get them from a traditional "boucherie".
As it's fresh meat, they can be frozen.

What can I do if I have no BBQ ?
If you're in an apartement but want to enjoy this kind of meat it's possible, grill them in a frying pan. Do not forget to pick them them with a fork before cooking and remove the fat from the frying pan. You don't need to add oil, they already contain a lot.
You also need to cover your frying pan if you don't want to clean all your kitchen... But a lid is not the best.
Just cover the pan with an alumina foil.
Back to the "
meat
" article.
Partager cet article