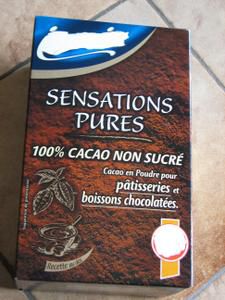 1. Cacao en poudre : cacao amer (cocoa powder) be careful it's bitter because there's no sugar added. It's pure cocoa powder.
How to use it ?
If you want to drink an authentic and very good hot chocolate, heat up some milk, add some cocoa powder and sugar to taste, and stir. Be careful, the milk must be hot enough to « cook » the cocoa powder but you need a pan big enough otherwise it boils over ! Keep stirring for at least five minutes, and then, it's just so good! It will have an unforgettable taste, very different from all the other mixed powders.

You can also use cocoa powder in cakes.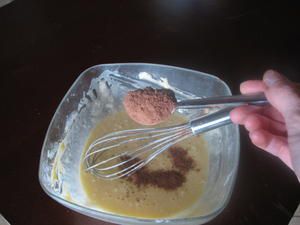 Where to find it ?
It depends. Most of the time it's close to the other kinds of chocolates (breakfast department with tea, coffe). But in some shops it's close to the sugar (sucre), flour (farine) and « pastry stuff ».

*****




2. Préparation instantanée pour boisson au caco / Boisson instantanée au cacao : hot chocolate mix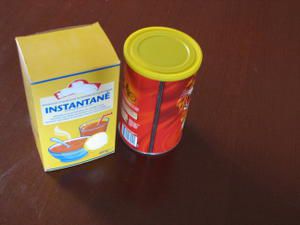 Very sweet, with little cocoa powder in it, it's mainly sugar. Used for children's breakfast because it's fast and easy to prepare.
"INSTANTANE" must be written on.

How to use it ?
Add one or two spoons of chocolate to some milk and microwave. You can also do it on the stovetop. You can also drink it cold.
Where to find it ?
With all the breakfast ingredients, not too far away from the coffee and tea.
How to store it ?
Several months in a dry place.

Back to the article "if I want to make a cake"