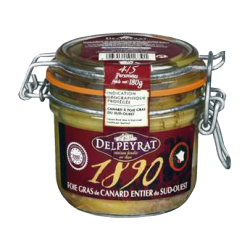 For Christmas, many French people have some foie gras as an entree. We have foie gras sliced on warm toasts.
But what can you do if you want to change a little bit?
Foie gras and ginger bread
Foie gras goes very well with pain d'epices. Pain d'epices is a kind of ginger bread and we have two recipes for this pain d'epices.
One recipe contains ginger and other spices like cinnamon. And another recipe contains less spices and a lot of honey. For this recipe, you need a strong honey, like chestnut honey. And this is this second pain d'epices that you can have with your foie gras if you want to discover new flavors.
Foie gras and Sauternes or champagne confit
And what about having your foie gras with a Sauternes confit or a champagne confit? These confits are artisanal products made in France. Try this unique taste for a perfect match and enjoy your foie gras as if you were in France.
Enjoy Christmas and Easter with a slice of foie gras on a slice of warm bread. Have a lovely glass of white wine. Bon appétit !