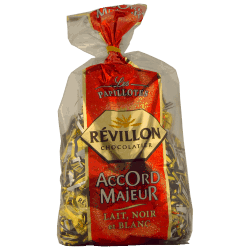 Papillotes are very common for Christmas. These chocolates are a famous treat for everyone. You can find Papillotes made of dark chocolate, milk chocolate and also white chocolate.
But Papillotes can also be crunchy or very soft. Whatever you like, you will find a papillote that will suit your taste!
Papillote, a tradition from the Alps
Do you know where the Papillotes were invented? They were invented at the end of the 19th century in the city of Lyon in the Alps. A young apprentice who was working in a chocolate factory was in love with a beautiful young woman. To be nice, he decided to offer some chocolates to his (not yet!) girlfriend. So he took some chocolates from the factory he was working at, and wrapped them with little poems and love declarations!
When his master realized what this young man was doing, he fought that it was a very good idea! He only replaced the love letters with jokes and quotes from famous people.
And here was the papillote!
Where does the name "papillote" come from?
Papillote is a very cute name, but at the origin, it was just the name of this chocolate chief! His name was : Mister Papillot!!!
If you are looking for your French papillotes, you will find a lovely selection on Mondizen, your online French shop. And we deliver internationally! So be ready for Christmas and order your Papillotes Revillon now!