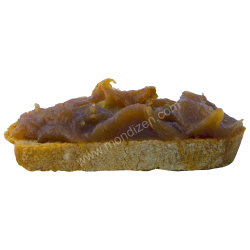 This one is a long lasting love story!
We use a lot of chestnuts in our cooking. We can use them with cabbage and bacon, it is very nice. For this kind of recipes, you need to buy "marrons entiers" (whole peeled chestnuts).
Chestnut paste
In every supermarket in France, you will find the famous chestnut paste (puree de maroons) from Clement Faugier. This paste is a specialty from the Ardeche region in the centre of France. This paste is just mashed chestnuts with no sugar added, so you can use it in your cooking, to make cakes for example. But this chestnut paste is also excellent mixed with mashed potatoes. You should really give it a try!
Chestnut spread
If you have a sweet tooth, then you cannot miss the famous "creme de marrons" from Clement Faugier. This chestnut spread is a lovely spread made from chestnuts slowly cooked in sugar then mashed. It is just wonderful!
You can use it like a jam on a slice of bread and butter, but you can also use it in your cakes or desserts. Creme de marrons is also perfect on pancakes (crepes).
In fact it is perfectly nice on anything!
So, enjoy this famous French taste, choose between the "puree de marrons" or the "creme de marrons" (or don't choose and try both of them) and welcome to France!
Enjoy "la crème de marrons"!