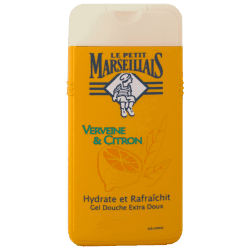 Do you know Le Petit Marseillais products?
These soaps, body moisturizers, hand creams, shower gels and shampoos are made in France, in the place of one of the most famous soaps of France : Marseille in the South of France, on the Mediterranean coast.
Le Petit Marseillais offers a large variety of body products made with natural ingredients. They all have beautiful smells you can choose between.
Petit Marseillais shower gels
Would you like a shower gel with a lovely smell of vanilla? And what about almond? But if you like shea butter, this is fine too!
This week on Mondizen, your online French shop, we have a special deal on Le Petit Marseillais shower gel lemon and verbena! Yes! Enjoy this shower gel with 50% off!
But it is only for this week, next week, we will have another discount of course!
Petit Marseillais shampoo
If you want to take care of your hair but a good shampoo and conditioner, then Le Petit Marseillais is also what you need. They offer a wide range of products with honey, shea butter, linen and many other things. You will probably find the shampoo you need and get the right conditioner too!
Petit Marseillais body creams
Le Petit Marseillais also offers body moisturizers, hand creams, body creams to take care of your skin. Enjoy a soft cream to get a lovely skin with a delicate fragrance.
All the Petit Marseillais products that you want are on Mondizen, your online French shop. Buy Le Petit Marseillais, and get your products right to your door, we deliver internationally.