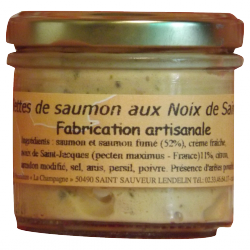 Yes they are!
If you love French food, especially gourmet and regional food, then we have some good news for you. Our prices are down on all our meat terrines Charcuteries de la Trappe and our fish terrines Maison Saint-Lo in the "Region" section of Mondizen, your online French store.
You can now enjoy a pork rillettes for only 4.70 € and a lovely salmon terrine for 5,25 €!
These products are all artisanal products made with high quality ingredients. We always try our products, and these ones are just great! We buy them directly from the producer and we know it is very high quality French food.
So if you want to enjoy a little bit of France, then you should visit our "Region" section and grab a few gourmet terrines.
These terrines are easy to store (at room temperature when not opened, then in the fridge for a few days), and they are a very easy way to enjoy a part of the French gastronomy. Just open your terrine and give a try on a slice of fresh bread!
You can have these meat and fish terrines as an entree with a green salad or for the aperitif on toasts. In any case, they will be delicious.
Bon appétit!