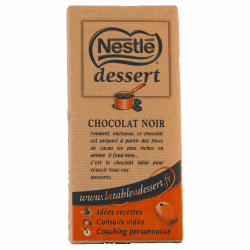 If you love baking and especially chocolate cakes, chocolate biscuits and other chocolate treats, then you will enjoy our new offer in the Pastry section of Mondizen, your online French store.
Nestle Dessert baking chocolate
We now have several baking chocolates. Our range includes the famous Nestle Dessert dark chocolate but also the Nestle Dessert Corse chocolate. This corse chocolate contains more cocoa and has a much stronger chocolate flavor. If you love dark chocolate, this one is for you!
But if you enjoy milk chocolate flavors, then you should try the Nestle Dessert au Lait. This baking chocolate is made with milk chocolate for a very balanced taste. I am sure your kids will love it!.
But Nestle Dessert also offers different tastes like this baking chocolate with a caramel flavor! Yes! A must-try!
With this caramel-chocolate flavor you can bake amazing cakes or make lovely chocolate sauces with this touch of caramel.
And if you want to make beautiful glazing, toppings or chocolate sauces, you can try the Nestle Dessert white chocolate. A very soft texture, a lovely taste of white chocolate. It is also amazing in your baking, why not try a white chocolate cake?
For all your chocolate and especially baking chocolates, you will find what you need on Mondizen. We also have a Chocolat praline, this is a mix of chocolate and "praline". Praline is made with walnuts, chestnuts and sugar and it makes your chocolate so tasty! It is just incredible.
Well, the choice will be difficult, we know, but these baking chocolates are so good and they make amazing cakes and biscuits.
And if you wanted one more good news, all the baking chocolates prices are down...!! Yes!
Enjoy your baking with Mondizen!