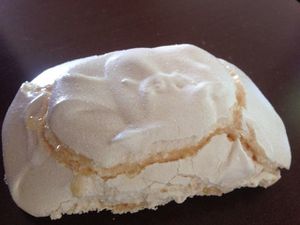 In France, we love meringues when they are very very very crispy. This kind of meringue is very easy to make, it's only egg white and sugar.
The secret of this meringue is in its baking... a meringue is not baked! No, it is dried!
This means that to "bake" a meringue, you need to put your oven on very low temperature (around 50°C) and let them for a long, long, long time.
That's the secret! And now you know it, so let's start cooking!
Ingredients for 1 big meringue
2 egg whites
120g caster sugar
If you want to add a subtle vanilla flavor, use a bag of sucre vanille Alsa
Preparation
Preheat the oven to 50°C (Th 2).
Beat the egg whites in a medium bowl until soft peaks form. Then slowly add the sugar, still beating the eggs until the sugar is well incorporated. At this stage, the mixture should be thick and glossy.
Pour the meringue preparation on a baking sheet.
You can make one big meringue or several smaller ones. In this case, just use a dessertspoon to drop the preparation on the baking sheet.
If you make a big meringue, bake it for 2 ½ hours. For smaller meringues, 1 ½ hour will be enough.
Bon appétit!!!