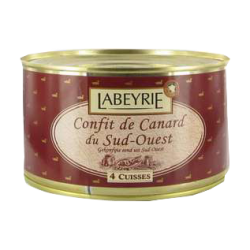 Here is an interesting question!
But before we dive into our French cooking lesson, let me give you a wonderful treat. If you enjoy France and want to visit famous places & museums, check this free guide. It's just for you! Enjoy your visit to France...
Confit de canard or duck confit is a very traditional French dish from the South West part of France. A duck confit is a duck leg slowly cooked in duck fat.
But don't worry! Do you know that duck fat is a very good fat for your health? Yes it is! It is a good fat for the heart and cholesterol, so why should we avoid it?
Duck confit is often already cooked and canned, so it is very easy to prepare... and enjoy!
Basically, you have two options to reheat your duck confit:
1. in the oven. Open the can, remove the fat around the duck legs (but keep it!). Put the duck confit in a ovenproof dish. Skin on top. Bake for around 20mn at 180°C, until the skin is crispy and golden.
2. In a saucepan. Remove the fat around the dug legs, put your duck confit in a saucepan with the skin at the bottom. Grill for a few minutes, until the skin is crispy and golden.
That's it! Easy, and tasty...
Now, what can you do with the remaining fat of your duck confit?
Well... traditionally we eat duck confit with baked potatoes "patates sautées" or "pommes de terre sautées" and a green salad.
So... you can bake your potatoes in this duck fat, it will give them a lovely taste and it will go so well with your duck confits!
A real taste of France.